Hi everybody!
My name is Hooshi and I would like to personally welcome you to my "Healthy Cooking & Eating Blog", a resource full of tips, tricks , guides and recipes on how to cook and eat well!
Eating is the very first and most important need of human being, a thing that cannot be omitted, excluded or overlooked. However, eating food in an uncontrolled and improper manner may turn to very serous situations. We are all aware of overweight and obesity problems especially in our century.
When was the last time you tried to avoid eating a delicious meal, but you couldn't? In fact, have you ever wondered if you can eat tasty food and lose weight simultaneously?
Well, I'm not a diet expert and I don't want to pretend, either. I am just an average guy trying to find the best solutions in this field. Yes, I love to eat and that's my first passion. But, I was also suffering from overweight. So, in the journey of learning how to cook and eat well, I have gathered massive information, tremendous amount of tips and guides as well as easy yet effective healthy cooking recipes.
Now, it's my turn to share it with you what I have learned so far and what I think you might try out, too. With that being said, I will definitely need your thoughts and ideas on the topic, so feel free and share with us what you already know about it and let's make this blog a more pleasant place for those who love to cook and eat healthy food!
To Your Success!
Hooshi,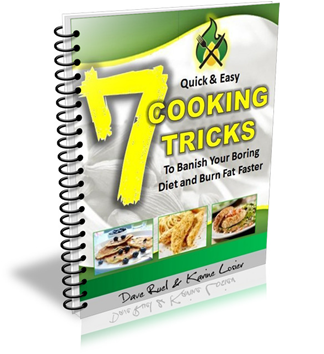 7 Quick & Easy Cooking Tricks

To Get Rid of Your Boring Diet and Burn Fat Faster

Download your FREE report right now!