Eating breakfast is the first rule of healthy eating and having a brunch between breakfast and lunch is another smart eating habit.
But, what is a healthy breakfast or brunch and how long does it take to prepare it?
Top 10 Healthy Breakfast and Brunch Recipes:
Looking for recipes about a nice breakfast and brunch is not so difficult, what seems to be challenging is finding the right healthy option. Here, I have prepared a list of top 10 healthy breakfast and brunch recipes for you which I have picked from Allrecipes.com, based on customer ratings:
Ready in about 30 minutes
Either as a healthy breakfast or brunch or a side dish, this fresh applesauce is made of a couple of peeled, cored, chopped and cooked apples, ground cinnamon and sugar.
2. Low-Fat Blueberry Bran Muffins:
Ready in about 35 minutes
If you would like to have some muffins for breakfast, that's fine. Just make sure to get the healthy ones like this low-fat option made of blueberries.
Ready in about 35 minutes
Start your morning with these nutrient-rich muffins containing raisins, carrots, wheat germ, apple butter and walnuts.
4. Health Nut Blueberry Muffins:
Ready in about 30 minutes
Another healthy muffin made of blueberries, mashed banana, chopped walnuts and buttermilk can be on your table for breakfast or brunch.
5. Strawberry Oatmeal Breakfast Smoothie:
Ready in about 5 minutes
This fast, colorful and nutrient-rich option is my favorite smoothie in case of morning rush.
6. Whole Wheat Blueberry Pancakes:
Ready in about 13 minutes
This healthy pancake can be prepared in a few minutes, as a rich and tasty breakfast or brunch, sweet and moist.
Ready in about 90 minutes
Just bake peeled, cored and sliced apples in the oven with a mixture of sugar, flour, cinnamon, nutmeg and cloves and you'll have a nice breakfast, dessert or side dish ready!
8. Mimi's Giant Whole-Wheat Banana-Strawberry Muffins:
Ready in about 35 minutes
Looking for bigger muffins? Well, then check this out! A nice, tasty and moist whole-wheat muffin containing banana and strawberry.
Ready in about 40 minutes
A much better alternative than most granola bars, these ones are so nutritious and filling, composed of dried mixed fruits, walnuts and sunflower seeds.
10. Lower Fat Banana Bread II:
Ready in about 75 minutes
It is not just a bread, it also contains walnuts and applesauce, making it tasty and nutrient-rich.
(Source of information: Allrecipes.com)
What Are Your Top Healthy Breakfast and Brunch Ideas?
If you are a true healthy eater, then you should put breakfast as one of your main daily meals. Tell us more about your top healthy breakfast and brunch ideas and share this article with your family and friends!
Enjoy,
Hooshi
Cooking.TopOnlineGuides.com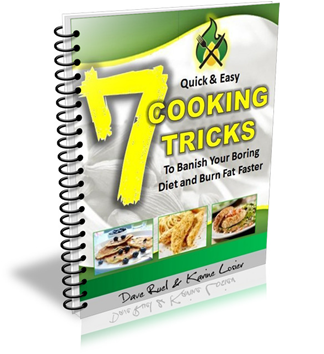 7 Quick & Easy Cooking Tricks

To Get Rid of Your Boring Diet and Burn Fat Faster

Download your FREE report right now!